Regular price
$149.00 USD
Regular price
Sale price
$149.00 USD
Unit price
per
Sale
Sold out
Pictured here are two of six whitetail bucks I have become very acquainted with. The past couple of years, I have spent a considerable amount of time with this herd in a forest only 2 km from home. The moment you see here was captured in the later part of the rutting season when friends become temporary foes. The two bucks paused momentarily as they sized one another up just prior to locking antlers in a short, but spirited battle. The deer on the left I call 'E11even' (for his 11-point rack) and the deer on the right I call 'Spike' as a result of one tine on each antler that stuck straight up like spikes. E11even is no doubt the alpha among the herd and the challenger, Spike was quickly put back in his place after they locked up! To be honest, if I could read a deer's eyes, just prior to this moment, Spike turned his head in my direction and looked at me almost as if to say, 'I do not want to do this' ! Like the big buck he is, he didn't back down, stood his ground and lost this match graciously.
Side note: In mid-February of 2021 E11even shed his antlers. (Deer drop their antlers each year and a new set start growing in the spring.) I was determined to find at least one of E11even's antlers. After scouring the forest floor for 3-weeks I was starting to lose hope that I would find one. However, fittingly on March 11th my persistence paid off! I was just shy of hitting the 400 km point in my shed hunting season (almost 600,000 steps) when my eyes lit up as I spotted E11even's right 6-point antler laying on the forest floor! I knew immediately who's antler it was when I saw it. I was beyond excited to be gifted this forest treasure after clocking hundreds of hours spent in E11even's presence and putting in hundreds of kilometres in search of one of his antlers! Earlier in my 2021 shed hunting season I had found the left antler of Spike laying in the snow almost in the exact place our paths first crossed. For the rest of my life, I will cherish these gifts, which are now proudly displayed next to one of my photos of the antler's original owners! (This one!)
| | | |
| --- | --- | --- |
| Printed on: Hahnemühle Photo Rag | 3:2 Ratio | Border Size |
| SMALL | 12" x 18" | 1" |
| MEDIUM | 16" x 24" | 1.5" |
| LARGE | 24" x 36" | 2" |
| EXTRA LARGE | 40" x 60" | 0 |
Shipping & Returns

Free Shipping during promotional periods, any amount of prints, anywhere in the world!

If your art work is damaged please contact me immediatley to be replaced.
Care Instructions

This fine art paper is very fragile, please frame upon receiving your shipment.
Share
View full details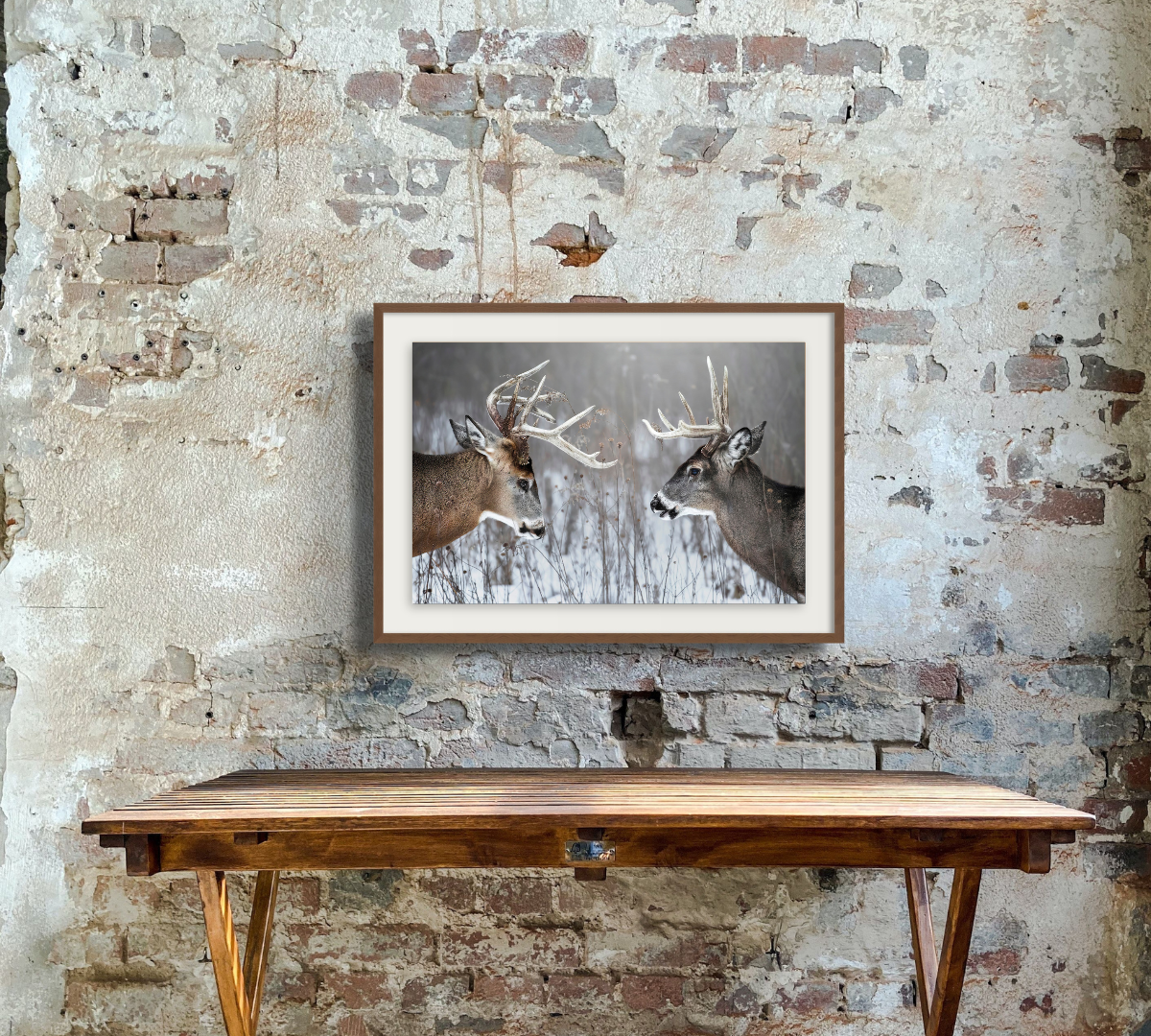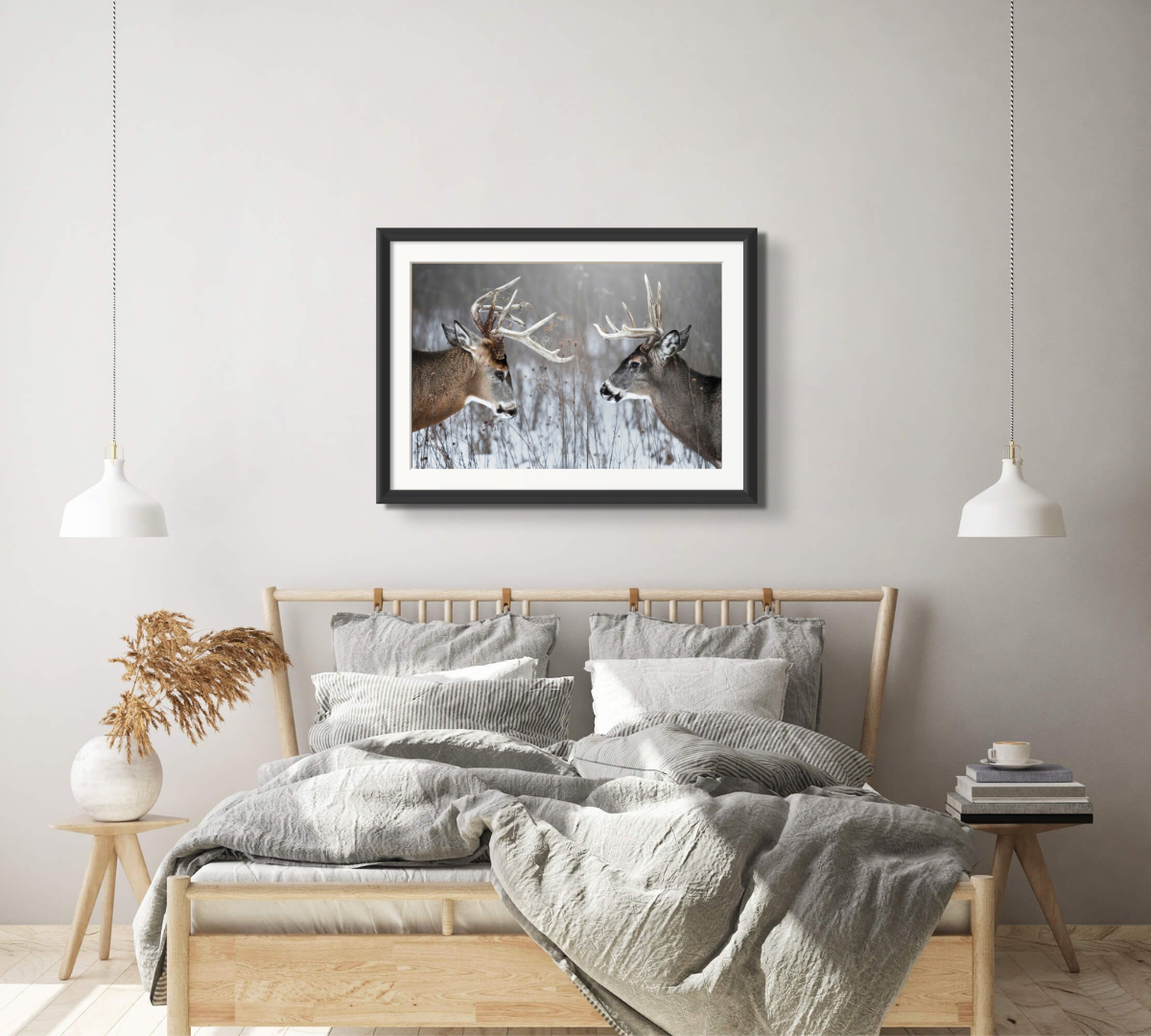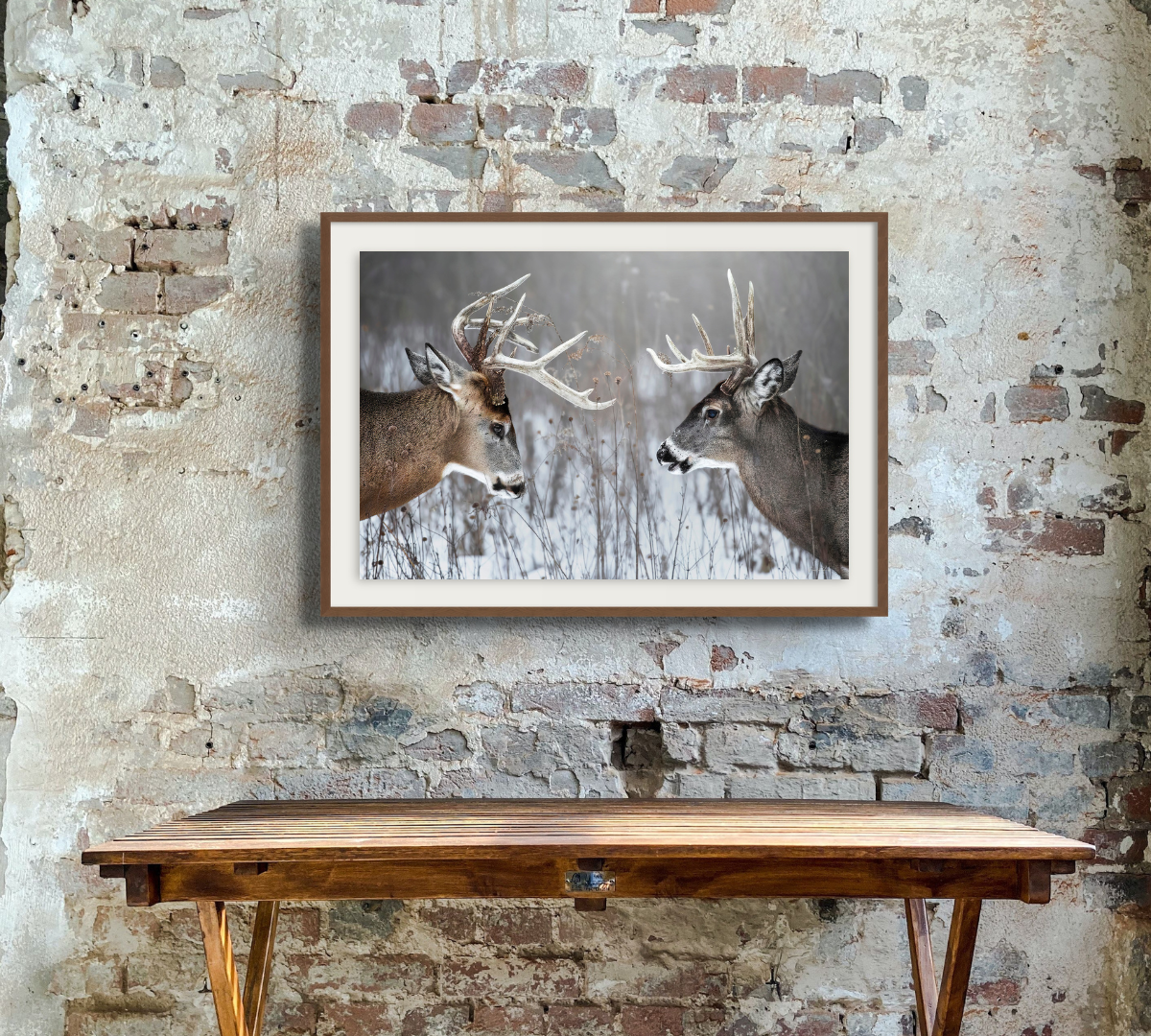 Dave Sandford's Conservation Mission
As a Polar Bear International Ambassador, I proudly donate 10% of my polar bear photography print sales to support and aid in Polar Bear conservation.
Thank you for supporting my work and supporting wildlife conservation through purchasing my artwork.
Free Global Shipping

For this initial launch period free shipping is offered with any print size order!

Hassle-Free Exchanges if Damaged

We ship our art work with the best possible, recycleable materials but sometimes shipping can be rough. Please contact us immediately if any issues from shipping.