Regular price
$149.00 USD
Regular price
Sale price
$149.00 USD
Unit price
per
Sale
Sold out
It was November 2020, and we just had our second major snowfall for our region, it snowed pretty consistently for a solid 15 hours. I was excited to head out to my local forest early in the morning before sunup, in hopes of some quality encounters with whitetail bucks like the one you see here. 
On a winter day like this, even without having seen any wildlife at first, it was still spectacular in the fresh snowfall. There's something remarkable about being the first one to lay down a set of tracks in the freshly fallen snow. Everything around you looks so pristine and dreamlike. That said, I was fortunate to have plenty of buck encounters on this morning. This fella here in this photo was my 6th encounter on the morning. His, was a familiar face, my old friend 'Bucky' whom I had not crossed paths with since mid-summer. (See the story behind our relationship in my caption for 'Greenwood' or 'Daily Reflections') I had just encountered a large buck who was keeping close tabs on a doe.
She was the centre of attention, and the reason I saw as many bucks as I did in the area. Bucky, the final buck I saw on the day was about to become the 5th in a line of defeated bucks. The larger buck with his lady friend was making it clear that he had his eye on her. I say eye, as he had a badly injured right eye, and appeared to only have vision in his left eye. The previous 4 bucks didn't make it too close before he would charge and one by one each buck retreated into the deep woods. Bucky was the only one up for the challenge. He lined up his competition and made his approach. They locked antlers briefly. I mean very briefly, before I knew it, Bucky started his retreat. It didn't take him long to realise he was no match for 'ol 'One Eye'. Prior to Bucky's retreat, he had not seen me. His exit route brought him face to face with me! He stopped dead in his tracks about 12' in front of me.
Here we both stood staring at one another, like old friends meeting for the first time in a long time. He looked at me with his big eyes and tilted his head slightly sideways, as if to say hello old friend. I told him that it would be ok, that there are more girls out there and that he will find one fit for himself. (Yes, I talk to the animals) We continued to stand there, both periodically looking in the direction of the large buck & his potential wooer. About five minutes had passed, both of us still holding our positions when all of a sudden, the happy couple took off deeper into the woods.
Bucky then looked at me, turned and with 2 big bounds he too was gone in a flash. One of the greatest parts of spending so much time among the animals is getting to witness different behaviors at different times of the year, such as this fall rutting behaviour. Another advantage of being able to put a great amount of time into one area, it can potentially allow an animal to recognize you. When you can establish some form of trust with an animal, it opens you up to a whole new world of photographic
| | | |
| --- | --- | --- |
| Printed on: Hahnemühle Photo Rag | 3:2 Ratio | Border Size |
| SMALL | 12" x 18" | 1" |
| MEDIUM | 16" x 24" | 1.5" |
| LARGE | 24" x 36" | 2" |
| EXTRA LARGE | 40" x 60" | 0 |
Shipping & Returns

Free Shipping during promotional periods, any amount of prints, anywhere in the world!

If your art work is damaged please contact me immediatley to be replaced.
Care Instructions

This fine art paper is very fragile, please frame upon receiving your shipment.
Share
View full details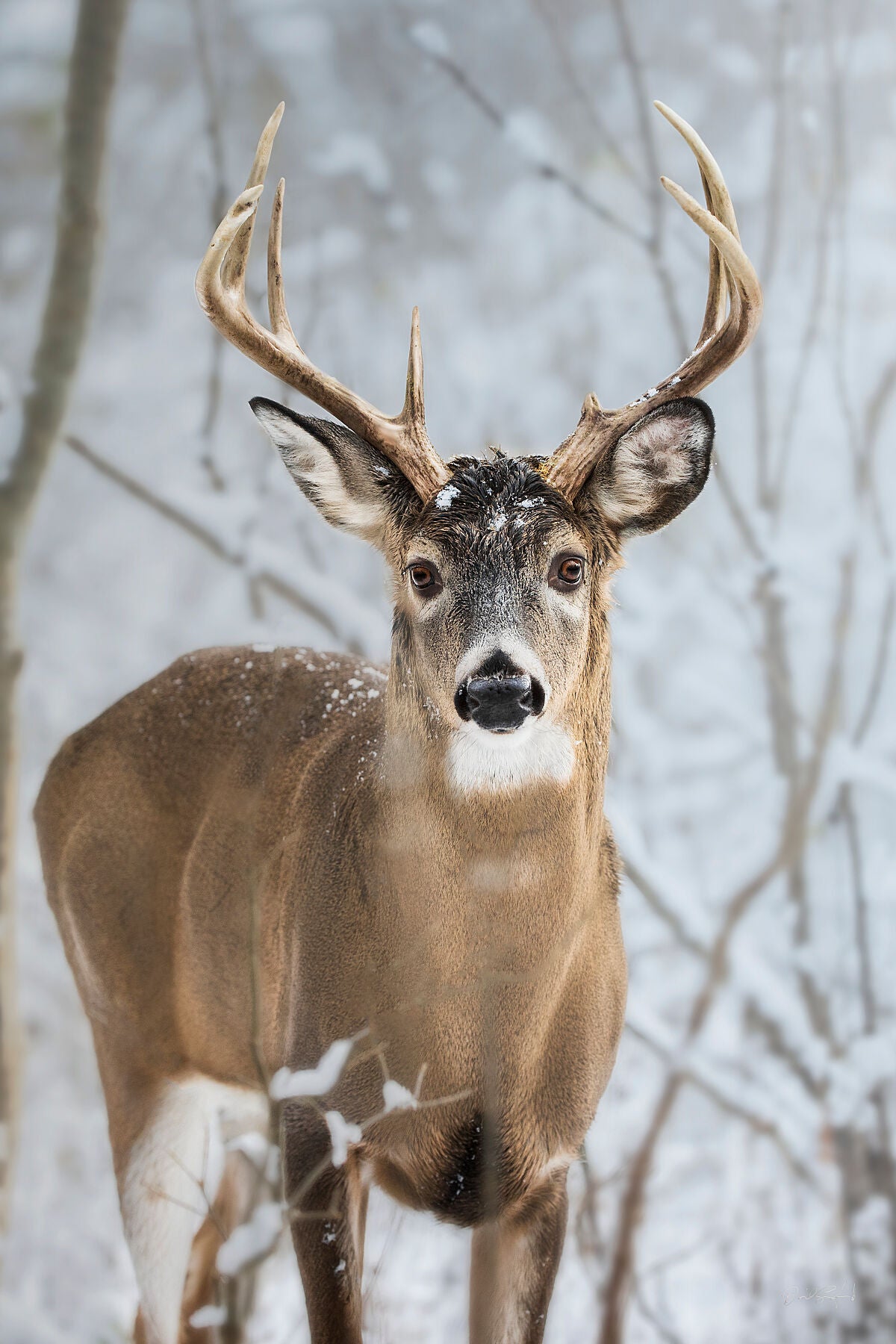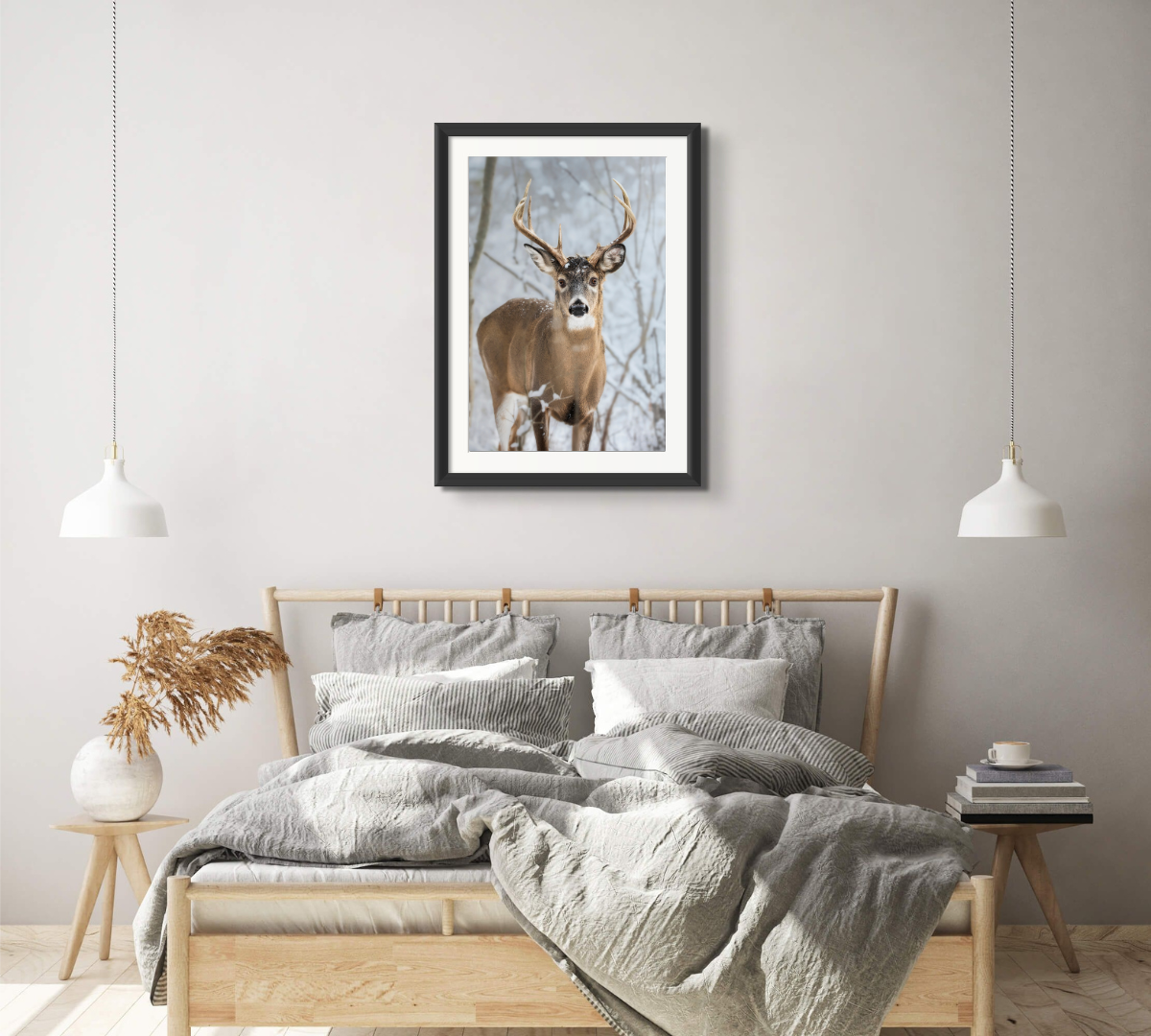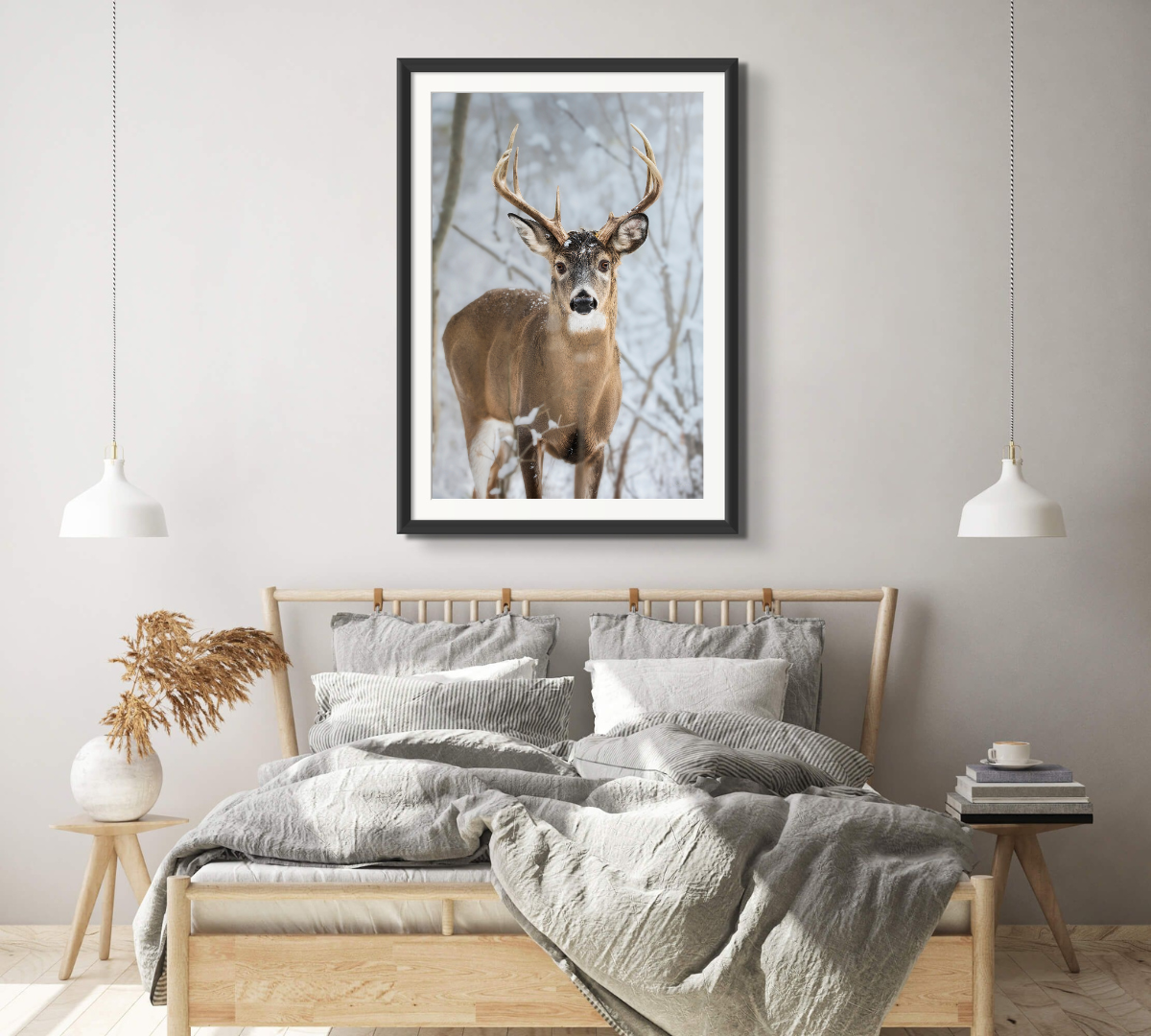 Dave Sandford's Conservation Mission
As a Polar Bear International Ambassador, I proudly donate 10% of my polar bear photography print sales to support and aid in Polar Bear conservation.
Thank you for supporting my work and supporting wildlife conservation through purchasing my artwork.
Free Global Shipping

For this initial launch period free shipping is offered with any print size order!

Hassle-Free Exchanges if Damaged

We ship our art work with the best possible, recycleable materials but sometimes shipping can be rough. Please contact us immediately if any issues from shipping.