Regular price
$3,450.00 USD
Regular price
Sale price
$3,450.00 USD
Unit price
per
Sale
Sold out
DAVE SANDFORD SIGNATURE SERIES IMAGE EDITION OF 20 [Signed and Framed]
This is an image that holds a great deal of meaning for me. With the pandemic of 2020 keeping me grounded from my usual life on the road, I focused my efforts on a ravine near home. This forested area down the street from home, I have always simply referred to as 'The Ravine'. Located behind my old elementary school, the ravine played a large part in my life & photographic journey.
Growing up, I spent hours at a time in the ravine. I knew it like the back of my hand. At the ripe old age of nine, I picked up a camera for the first time and the ravine was the place in which I began to hone my photographic skills. From then into my early twenties, I would venture down to the ravine before school or work in hopes of any wildlife encounter. I recall on those walks home how I wished I didn't have to go to work or school, but rather just stay there all day looking for animals – careful what you wish for! In my mid-twenties, I started travelling for my career and trips to the ravine became few and far between.
Eventually, all that remained were my memories and a handful of subpar photographs and slides. Another twenty years would slip by without setting foot in the ravine and I was grateful that not much had changed over that period of time.  In a world where green spaces have greatly disappeared, it was a welcome sight to see that the natural green space of the ravine had not been greatly altered over the past 20+ years.

In the spring of 2020, with assignments to such locations as Australia, Antarctica, Alaska, and the Arctic all cancelled, I found myself with time on my hands, at home. I had to keep shooting; it is in my blood. Being in nature with my camera in tow is what I love the most. I decided I would focus my efforts on shooting locally. Cue my return to the ravine, (remember what I said; careful what you wish for)! I hiked for days and weeks through the bush reacquainting myself with the local scene. I started tracking the deer and trying to learn their habits in early spring. When the lush colours of mid-spring finally arrived, I spent the better part of two months waking before dawn on many days, to make the trek down to the ravine.
Thanks to my advance scouting, I was able to learn a few habits from some of the resident whitetail deer. One of the prime locations I'd scouted out was a small creek, surrounded by lush vegetation. It was at this location that I focused on a mission to capture an image I had envisioned. Through a serendipitous moment, I witnessed a young juvenile buck crossing the creek. At the time, I had too much lens for the close proximity I was to the deer. We were so close to one another that I could only fit one third of his body in my frame.
The resulting image at this time, was the catalyst that sent me on a personal mission to create the image you see here today. That first image I speak of had a hint of the buck's reflection in the water. It was almost a perfect mirror image as the creek was near still. I knew the deer in the area crossed the creek on a regular basis. My idea was to set up along the shore of the creek, hidden away in my blind and using the proper focal length lens. My objective, to try and capture a deer crossing the creek with a near perfect mirrored reflection.
In the coming days, I came to learn that this same buck would cross the creek on almost a daily basis in virtually the exact same spot. I spent hours in my blind, the hours turned into days and the days turned into weeks and Spring turned into Summer. The buck had some distinct markings which made him easy for me to identify. I eventually nicknamed him 'Bucky'.  Original I know, but there is meaning to this nickname, which I will eventually get to. Bucky crossed this creek practically every day between the hours of 6:30-8:30 a.m. more often than not, within 20' of the particular spot I first saw him crossing in mid-spring. Some days Bucky would linger in the creek for a few moments. At times, he could hear the sound of my shutter, he could smell me, but I remained hidden to him except for the giant 'eye' (my lens) protruding from my hide. A handful of times he cautiously approached to investigate further and get a better handle on my scent. I truly believe Bucky got used to my blind, the scent I gave off and to the sound of the camera shutter. Bucky became comfortable enough to the point where one day he approached my hide and I decided to reveal myself to him. It was almost as if his curiosity was finally satisfied.  After nearly six-weeks of numerous encounters, I had earned Bucky's trust. He learned that the sounds & smells of the last 6 weeks were associated with something harmless and the time he spent at the creek within distance of me, started to increase.
My patience and perseverance finally paid off! The image I had envisioned and crafted, (portrayed here) all came to fruition when Bucky crossed at the perfect point in the creek on this very special morning. I immediately knew I had nailed this moment in time! I was instantaneously overcome with emotion. Two months of planning and tracking, six-weeks of shooting on a near-daily basis for this one moment had all come together! During those six-weeks of trial & error, I endured stifling hot and humid conditions, bug bites and a lack of sleep. I battled poor conditions, poor reflections due to rippling water, debris like leaves and weeds building up, and crossings by my subject that were slightly off where I needed him to be. There were, of course, plenty of no shows on Bucky's part and days with really bad weather. I kept enduring. It is persistence like this that makes every single near miss, failed attempts and each moment spent patiently waiting, well worth it!
What was it that made this morning and this image so very special to me, and why on the 7th of July 2020 you ask?  Sixteen years earlier, at the exact same time in the morning, July 7th, 2004, both my sister and I were undergoing major surgery. My sister Linda has had her fair share of health issues in her life. July 7th, 2004, was the day I was able to donate a kidney to her. As a result of that transplant Linda was able to start leading a more 'normal' life, not being linked to a dialysis machine all the time. Eventually, she had a child with her husband Luke, my nephew and Godson, Sam. Linda, Luke and Sam live in Australia and have a dog named Bucky.  Our family has cottaged in the Kawartha Lakes Region on Buckhorn Lake for nearly fifty years. Linda and her family return each summer to go to this same cottage.  Like myself, it is their favourite place in the world. Their dog Bucky is named in honour of Buckhorn Lake which holds beautiful memories of bygone years.
Let me take you back to Bucky, the buck I became acquainted with.
Why, of all days, did this moment I spent six weeks waiting for, transpire at this moment in time?  I have always been a bit of an oddity when it comes to dates and numbers. Perhaps I read more into them than I should. I like it that way. In my eyes, it was meant to unfold the way it did on that particular date. On that morning, as I noticed the slightest movement in the tall grass, I held my breath for a moment & glanced to make sure my settings were correct. I then saw the tips of antlers protruding ever so slightly from the tall grass lining the creek banks. I just knew that this was potentially the best opportunity I could have. In the midst of this unfolding, I could feel my phone vibrating in my pocket. I knew without looking, that it would be my sister Linda messaging me to wish me a happy "transplant-a-versary". I ignored the vibrations and focused on the task at hand. Seconds later, the buck emerged from the grass and ever so slowly, stepped into the creek, the moment you see pictured here. Months of planning and hard work all came to be in 1/1250th of a second. I instantly felt tears roll down my cheeks… without even looking at the back of the camera, I knew I had what I was looking for. If I recall correctly, I just sat there for a moment to try and absorb things. Next, I hit the review button on my camera to have my first look at what eventually became known as "Daily Reflections". It was at this point that the real water works started! I then pulled out my iPhone to confirm my suspicions from moments earlier. It was in fact, my sister Linda who messaged me. If you recall, I mentioned my thing with dates and numbers. The date again, falling on the anniversary of our successful kidney transplant, the time, 8:11 in the morning. This is significant to me because 11 has been my favourite number since I was a young boy, and this buck was an 8-point buck. It felt appropriate that I had created the image I had been dreaming of on such an important day for my family, and at a time of day that meant something personally to myself. And lastly, to know in that very moment, from half a world away, my sister was thinking of us. When I factor everything in, this image holds great personal meaning for me, and after sharing my story with you, I hope it holds a little deeper meaning for you as well. It felt more than appropriate to nickname my new 'friend' the whitetail deer, 'Bucky'!
For additional imagery and stories about Bucky, please see the other images in my collection titled 'Greenwood', 'The Challenger' and 'Call of the Wild'. 
10% of sales from each copy of 'Daily Reflections' sold will be donated to the Kidney Foundation of Canada – Ontario Branch.
| | | |
| --- | --- | --- |
| Printed on: Hahnemühle Photo Rag | 3:2 Ratio | Border Size |
| | | |
| MEDIUM | 16" x 24" | 1.5" |
| | | |
| | | |
Shipping & Returns

Free Shipping during promotional periods, any amount of prints, anywhere in the world!

If your art work is damaged please contact me immediatley to be replaced.
Care Instructions

This fine art paper is very fragile, please frame upon receiving your shipment.
Share
View full details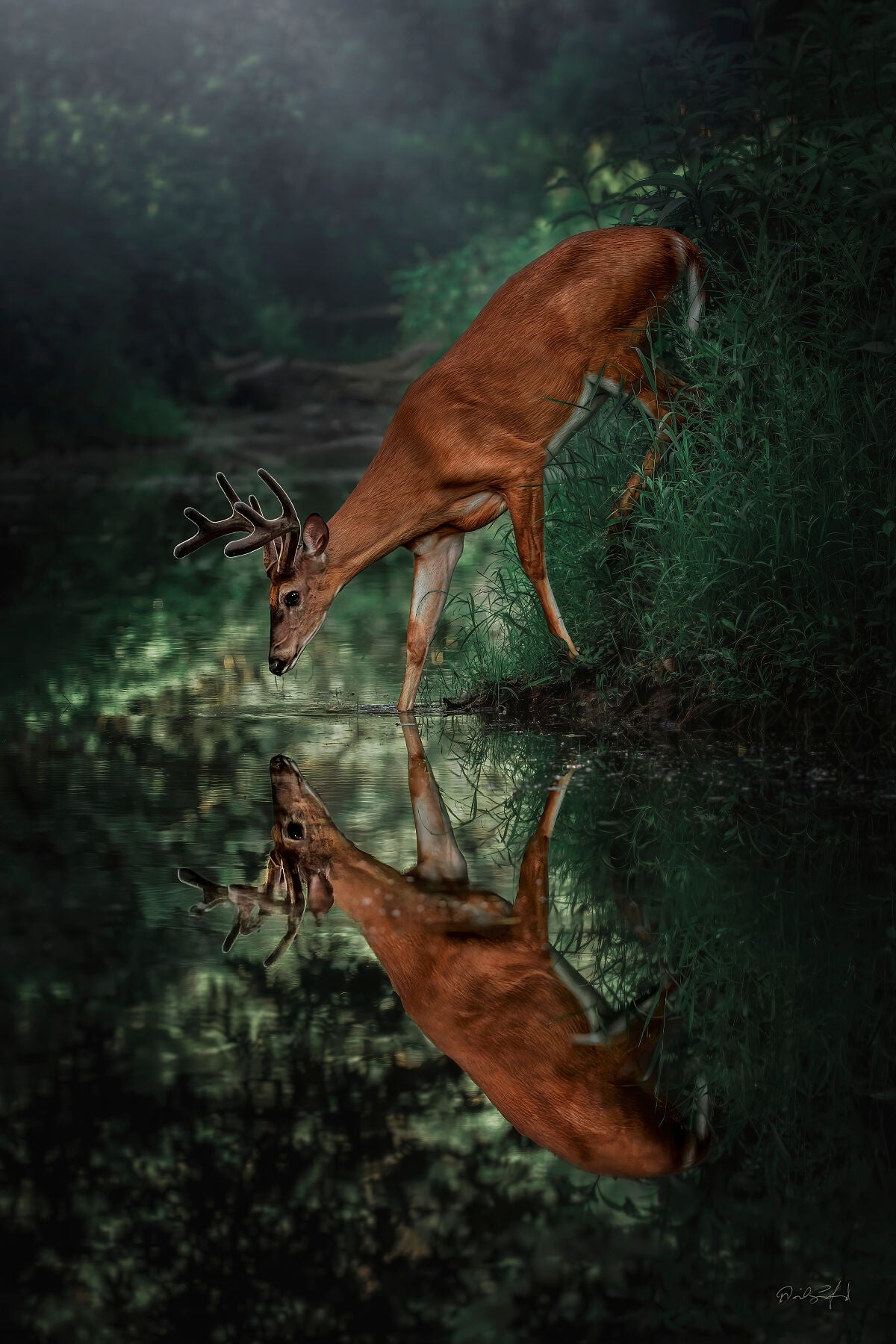 Dave Sandford's Conservation Mission
As a Polar Bear International Ambassador, I proudly donate 10% of my polar bear photography print sales to support and aid in Polar Bear conservation.
Thank you for supporting my work and supporting wildlife conservation through purchasing my artwork.
Free Global Shipping

For this initial launch period free shipping is offered with any print size order!

Hassle-Free Exchanges if Damaged

We ship our art work with the best possible, recycleable materials but sometimes shipping can be rough. Please contact us immediately if any issues from shipping.